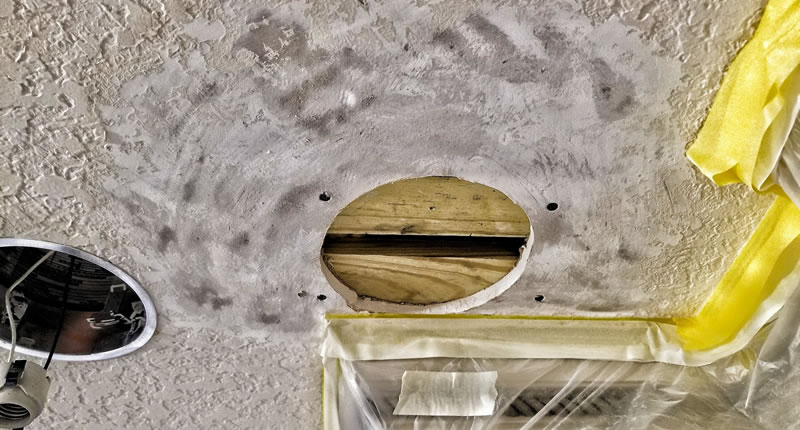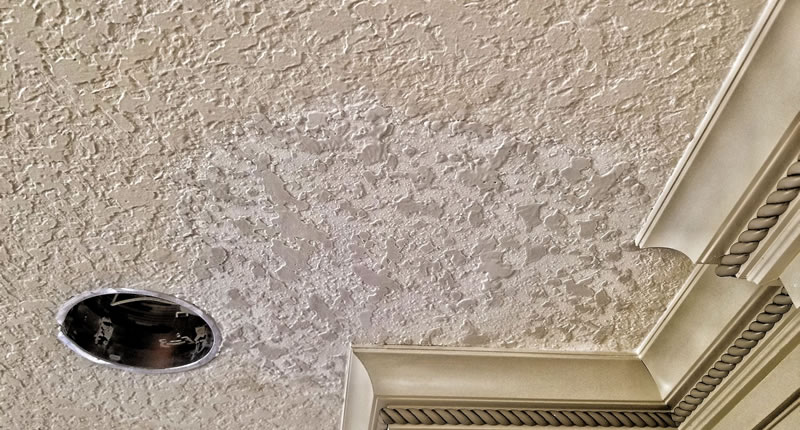 Do you have damaged drywall that you'd like to have repaired professionally? While drywall looks great as an interior finish, it can be damaged in a variety of ways. Whether one of your kids has put their fist or foot through the wall, a door knob has busted through, the golf cart went a little too far, or your drywall has water damage, if you want to have it repaired so that it looks just like new again.... We're glad you've found our website.
Why Do You Need Your Drywall Repaired Professionally?
Do you have a hole in your drywall you aren't sure how to fix?
Has your drywall begun to develop stress cracks?
Do you have a textured ceiling and you're concerned about matching the texture?
Do you have water damage in your walls or ceiling?
Do you have holes in your drywall from drywall or electrical repair/improvement?
Are you having a kitchen or bathroom remodel, and need the drywall to match?
Is your lanai or garage ceiling falling down, or "strips" showing?
Based out of Ocala, Florida and serving the surrounding areas, #DRR specializes in expert drywall repairs. Whether you've had an accident that damaged your drywall, your drywall has suffered some water damage, or you need to make repairs after some electrical work or lights moved or a plumbing re-pipe throughout your entire home, our team can fix your drywall with a level of quality that will leave you wondering how we were able to do that!
There are a number of companies offering drywall repair, but there none of them can match our communication, quality of craftsmanship, and timeliness.
Drywall Repair/ Installation Services We Offer:
Drywall hole and crack repair
Water damaged drywall repair
Repairing drywall cut outs from electrical or plumbing upgrades/ re-pipes
Repairing old exhaust fan holes
Repairing current or old skylight holes
Repairing light fixture holes
Matching wall and ceiling textures
Repairing Popcorn Texture
Removing Popcorn Texture
Replacing Popcorn Texture
Replacing Entire Garage Ceilings
Replacing Entire Lanai Ceilings
Matching "flood cut" drywall throughout a home
Repairing drywall cut out due to mold
Repair #NOTDRR Drywall Repair Attempts
Repair DIY drywall repairs
Wallpaper Removal
Texture changes
Drywall Skim to smooth for commercial vinyl/ wallpaper installation
Ceiling Leveling/ Strapping
And just about anything else dealing with drywall!
If you have damaged drywall that you want fixed professionally, so it that it looks like nothing has ever happened, then only the best will do. You need to contact #DRR Drywall Repair at (352) 817-3094 to schedule a time for your estimate.